This piece was originally featured in North Penn Now dated 5/5/20.
Think back all the way to the time before time, by that I mean the May 2019 Lansdale First Friday and you'll recall a music headliner named the Stereotytans! The Stereotytans, for those who aren't aware, perform fully decked out in costumes and showcase onstage theatrics that to hard rock from thirty years prior. From having a custom box for their DJ, Hades, to having their own storyteller, the Oracle, there's little about this band that is standard. And if you were there that Friday, you probably saw them in costume marching around Wood St.
Their impressive live show provides a play by play storytelling of the Tytans, the mythical predecessors to the Olympian Gods, of Greek Mythology. In addition to detailing a new tale of the daily triumphs and struggles of these larger than life myths, they constructed a highly creative and unique series of comic books.
On stage, the band members denote themselves by their characters, Prometheus, Oceanus, Hyperion, Kronos, Hades, Athena, and the Oracle. The characters, though, live on vibrantly in print via an alternate reality created by Philadelphia based artist, James Comey.
I've personally admired and respected this band since the first time we met, in late 2017. At that time, we didn't yet have dedicated staff to the Underground and I worked hard to build interest and get the word out about our new event space in Lansdale. Their band manager, Ryan Weiss, reached out to me about a unique opportunity both groups (us being Round Guys Brewing Company and them being the band, the Stereotytans) could both benefit from, a beer partnership.
This wasn't the first time we worked with an organization to build a special, often private label, product for a, typically non-profit, group. However, it was the first time we partnered up with a band. Since then, both parties have learned a lot about each other.
The Stereotytans performed a full-fledged music video for the song Bumblebee Weed at our facilities (the precursor song to the beer). They drew up a full comic, that's currently available for free to view for a limited time online, which details the making of Bumblebee Wheat within the Stereotytan's universe.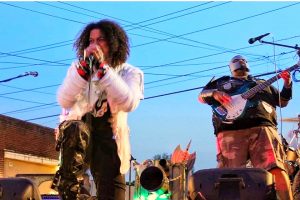 The comic book sits as one leg of the band's shared creative superpowers. Being in a room full of the Tytans regularly leads germination from a simple idea into a full-fledged storyboard with action plans. As explained to me by Cronos (bassist Chris Jones), Comey took special care to portray the individual superheroes exactly as they are in real life. The living Cronos is equal parts dry humor, feigningly apathetic, and devilishly brilliant.
Comey took numerous profile photos of each band member, sat and simply listened to the band interaction, taking mental notes and applying each character's abrasive edges to everything from their chin lines to the box placement of their dialog bubbles. While the band provided the story line, Comey painted the picture.
In a recent Round Guys Radio podcast, I interviewed James Comey, crafter of the world that you can now read about. His passion for comic books started early ranging across all genres. In his house he hordes endless stacks of comics that, if cleaned up and presented nicely, could double as a museum. He draws with a jagged angular style, it's severe. It's befitting of a Tytan.
Comey bumped into guitarist 'HyperGab' Gabriele Tesemma Tesfa Guma one afternoon at now defunct Locust Moon comic book shop in West Philly. He happened to stumble in during a comic book convention right after doing his weekly grocery run. The band, whom at their heart are comic book geeks and adult swim snobs, sought to expand how fans could engage in their shows by building a full world unto the stage characters.
The Stereotytans possesses an untold amount of character cohesion and dedication to telling the full, arcing tale of the Stereotytans, yes, it is an arc! With now two comic books under their belt, the Stereotytans look to build out an action animation featuring the art of Comey and the animation of local animator, Brian Dresner.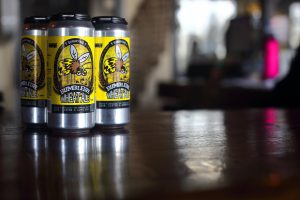 The band also currently is running a 'Color Like a Tytan' campaign, which anyone 21+ has a chance to win, among other things Tytan related, a 4 Pack of Bumblebee Wheat Ale by Round Guys Brewing Company. Learn more by checking out Round Guys Radio: Art of the Brewery: Bumblebee Wheat as featured on Facebook.com/RoundGuysRadio / wherever you find your podcasts, or go to RoundGuysBrewery.com/stereotytans to read the full comic!