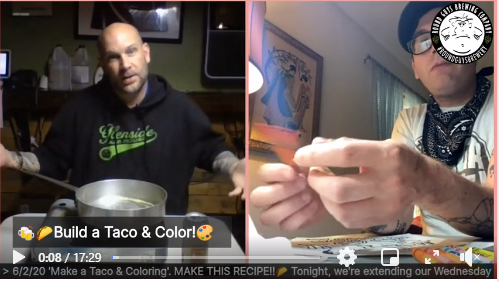 This week at 7pm on Facebook, you'll learn how to make Orange Chicken!! Guest host, Round Guys Radio personality and Florida Wayne Band drummer, Steivan William Johnson!
Make them at home! Taco Ingredients List for 12-15 servings:
32 oz Chicken (bite-sized pieces)
4 oz diced onion
1/2 bell pepper diced
4 tbsp butter
3 tbsp honey
1 tbsp garlic
2 tsp salt
2 tsp pepper
1 tsp red crushed pepper
1 tsp ginger
2 oranges (for zest and juice – marinate chicken 24 hours in juice, zest and dry spices)
Topping:
Those of your not cooking, be sure to grab your crayons and coloring pencils, we're going to rehash a couple of really fun sheets by two of our artists, Billy Leak and Kynn Peterkin!  
Image 1: [Bulldog w Lasers!]
Image 2: [Taco Yoda!]