Learn More Below!
√ Enter from South Wood St.
√ Yes, we have parking (see bottom).
√ Yes, we have a full food menu, including appetizers, meals and desserts.
√ Yes, we have outdoor seating
√ Yes, we have curbside / take out
When did it all begin?
Scott Rudich and Rich DiLiberto founded Round Guys Brewing Company in 2012. Round Guys Brewing Company opened up the same year as other regional breweries including notables Free Will Brewing Co, Tired Hands Brewing Co, Neshaminy Creek Brewing Co, and Forest & Main Brewing Co. According to Rudich, the impetus for starting a brewery came from a late night conversation he had with his founding partner, "either we start a band or we open a brewery, and considering we can't play instruments, I think the former is out."
Prior to opening Round Guys, Rudich and DiLiberto spent a couple of years perfecting their craft via homebrew competitions. Take for instance, the Original Slacker English Style Brown Ale, which originated via a beer the two men brewed that took second in the 2010 Yards Clone Competition.
What makes us stand out?
Since the beginning, Round Guys has strived to deliver quality balanced beer. Balance, being the defining feature of Round Guys Beers, can be seen through all styles and shades of brews. Using a 7 barrel system, the brewery serves up 16 beers on draft with an addition draft line up of Gimme Seltzer, the house made seltzer brand.   Round Guys upgraded their kitchen in 2020 to include full meal options, including pub classics such as burgers, wings, cheesesteaks, and mac n cheese, to more wholesome plates including chicken tikka masala and teriyaki bowls.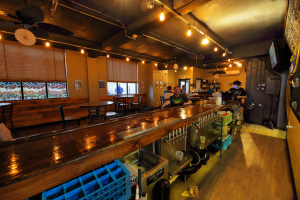 Why should I give it a try?
Round Guys holds awards for three beers: Fear of a Brett Planet (brettanomyces pale ale), Cyrano Saison (brewed with honey, mangos and sour cherries), and the Berliner (kettle soured berlinerweiss), with the latter two still in periodic production. Round Guys also runs a rotating list of double India pale ales (DIPAs) and a specialty fan favorite DIPA, Liquid Swords. Spaceman Wit (brewed with lime and blood orange zest) remains a fan favorite for easy drinking, warm days. The Last Waltz Baltic Porter, comes out every November to significant fanfare along with vertical tasting events (comparing year over year releases).
Last, but definitely not at all least, Round Guys serves up 'all the beer' flights. So imagine your typical beer flight, but triple that size! It's served to you via a barrel stave with additional flight glasses that don't fit, on the side!
How do I order?
The brewpub maintains a spacious roadside patio for outdoor seating along with our original cozy indoor dining area. A fully renovated indoor space provides multiple tvs and an expansive bar area (complete with electrical outlets and hooks). Ordering can be done in person, online for take out / curbside, online for shipping (to Pennsylvania only), or by phone, at (215) 368-2640.
Who will feel at home at Round Guys?
Anyone, and everyone. From Grandma to your hipster brother.
Round Guys proudly started doing monthly drag shows in 2013, much ahead of the drag show craze (in fact, we periodically release our drag series beers). Round Guys joined a Lansdale wide effort to eradicate racism. Round Guys also features all types of charities to join us for trivia or one off events, notables include Dog Town Rescue, Luv-n-Buns, and the Hedwig House. With the exception of 2020, Round Guys proudly provided support and assistance to the American Diabetes Association's Tour du Cure.
Where do I park?
Parking at Round Guys is easy, we have two lots. Although technically Round Guys holds a 324 W. Main St, Lansdale, PA 19446 mailing address, Round Guys actually sits a hundred feet south of Main St, on Wood St.
Round Guys Brewing Company has its own paved lot 30 feet west at the intersection of Derstine Ave. and Wood St. (this parking lot can be accessed via Courtland St. – which looks like a small alleyway). Though, the unofficial lot may be easier to find, which consists of a dirt and rock parking lot the immediate block following the brewery, off of Wood St., directly between Courtland St. and Derstine Ave.
Round Guys can also be accessed from Philadelphia and Doylestown areas via the Lansdale / Doylestown Septa Train Line. The Brewery is a short walk down West Main St. from the Lansdale Train Stop.
Curbside?
Yes, Round Guys Brewing Company offers Curbside and Take Out options. For Curbside parking, please pull up parallel to the facility on Wood St, facing Main St. You know you're in the right place if our Patio / Entrance sits to your right. Curbside parking is denoted by a white road sign with red lettering stating "Curbside Pick Up Here."
Not Convinced?
We'd love to chat with you should you have any questions, please feel free to email us at or call us at (215) 368-2640!