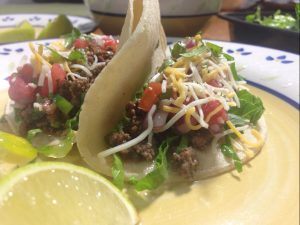 It's gonna be tasty! This Tuesday, join us on Facebook.com/RoundGuys and learn how to make Tacos Americanos! You may remember such tacos…ones that were sold in RGBC this past week as Phil Deaver guides you along the way! If you're on the patio, join us afterward for some tasty samples! Hey Friends – it's another Taco Night in Lansdale! [Pro Tip – as a reminder, find all of our video tutorials here -> https://www.facebook.com/watch/RoundGuysRadio]
Make them at home! The Taco Americanos Ingredients List for 12-15 servings:
[See ingredients below] Cooking instructions: In large skillet, met butter and saute garlic and onion until onion starts to cook clear. Add beef and spices, and cook until beef is thoroughly browned. Pull from heat and wallah! it's ready to serve!
Ingredients:
32 oz ground beef
4 oz minced red onion
4 oz butter
1 tbsp minced garlic
1 tbsp salt
1 tbsp pepper
1 tsp red pepper
Add all ingredients together and mix thoroughly.
Toppings:
shredded cheese
sliced romaine lettuce
Add 8-12 oz shredded mexi-cheese and 1 head of romaine sliced into ribbons and enjoy this tasty, quick dish!