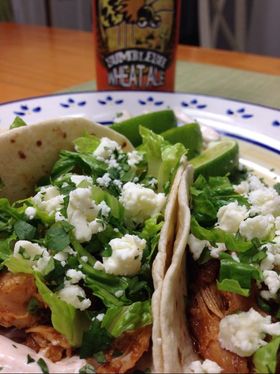 Changing this up! While the pub releases its completely amazing and excellent Ruben Tacos, we'll be showing you how to make a special beef taco! This Tuesday, join us on Facebook.com/RoundGuys and learn how to make the Hunt for Red October! Join Chef Phil Deaver guides you onto making these tasty tacos using grilled corn tortillas! If you're on the patio, join us afterward for some tasty samples! Hey Friends – it's another Taco Night in Lansdale! [Pro Tip – as a reminder, find all of our video tutorials here -> https://www.facebook.com/watch/RoundGuysRadio]
Make them at home! The Hunt for Red October Ingredients List for 12-15 servings:
[See ingredients below] Cooking instructions: Submerge the beef into Russian Messenger Imperial Stout, with limes and spices mixed inside a roasting pan. Roast for 5-6 hours, or until meat can be pulled. Remove and let cool. Reheat and pull meat; ready to serve!
Ingredients:
Oven roast 2-3lbs of round eye beef at 375 degrees
2 limes
2 tbsp minced garlic
1 tbsp chili powder
1 tbsp salt
1-2 cans Russian Messenger Imperial Stout
1/4 cup sriracha
Ingredients for making Secret Soviet Sauce:
1 cup sour cream
1/4 cup ketchup
1/4 sriracha
Whisk (emulsion blend) all ingredients. Sauce is ready to serve.
Toppings for these tasty tacos:
12 oz sliced dill pickle
1 spring cilantro chopped
1 med red onion diced