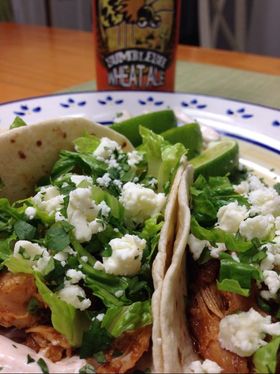 It's gonna be tasty! This Tuesday, join us on Facebook.com/RoundGuys and learn how to make Mr Chow goes to Buffalo (our house chicken tacos)! Join Chef Phil Deaver guides you along the way to making the very same tasty tacos as we have this week at our pub! If you're on the patio, join us afterward for some tasty samples! Hey Friends – it's another Taco Night in Lansdale! [Pro Tip – as a reminder, find all of our video tutorials here -> https://www.facebook.com/watch/RoundGuysRadio]
Make them at home! The Mr Chow Goes to Buffalo Ingredients List for 12-15 servings:
[See ingredients below] Cooking instructions: Smother chicken in buffalo sauce, add beer in a roasting pan and while keeping the chicken submerged in liquid, roast for 4-5 hours, or until meat can be pulled. Remove and just let it cool!
Ingredients:
Oven roast your 2-3lb of chicken to 375 degrees
1 can of BumbleBee Wheat Ale
2-3 cups of Asian Buffalo sauce
Ingredients for making Asian Buffalo Sauce:
Stew and whisk 2 cups Butter and 1 cup Sriracha
In sauce pan, melt butter and add hot sauce. Bring mixture to a simmer and whisk often (or use an emulsion blender). Do this for 7-10 minutes. Pull pan from stove and whisk (or use emulsion blender) often while mixture cools. Place in refrigerator overnight as it will be ready to serve tomorrow.
Toppings for these tasty tacos:
6-8 oz Feta
1-2 heads romaine ribboned