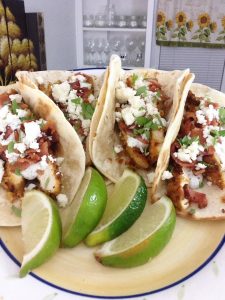 What a show this will be! You gotta join us live this Tuesday on the patio or on Facebook.com/RoundGuys! Learn how to make Crusty Cowboy that will be sold in RGBC as Phil Deaver guides you along the way! If you're on the patio, join us afterward for some tasty samples! Hey Friends – it's another Taco Night in Lansdale! [Pro Tip: See the following steps on video at Taco Night in Lansdale: Dessert Taquitos]
Make them at home! The Crusty Cowboy Ingredients List for 12-15 servings:
[See ingredients below] Cooking instructions: Slice the chicken on an angle and into 1/4″ width by 1″ high and 3″ in length filet strips. Pulverize chips into crumbs. Dredge the filet strips in the crumbs to cover the entire strip. With a large skillet or pan and the oil, pan fry the filet strips; rotating the strip over halfway through the cook. Pull from pan and place on a plate with a paper towel to remove excess oil.
Ingredients to be pan fried:
32 ox chicken breast or loin
1-2 mini bags of ranch chips
1/4 cup oil
Dressing (whisked – emulsification is preferred):
1 cup sour cream
1 1/2 tbsp dill weed
2 tsp garlic powder
1 tsp onion powder
1 tsp salt
1 tsp black pepper
Combine all ingredients and whisk until blended.
Topping:
16 oz bacon crumbles
10 oz feta cheese