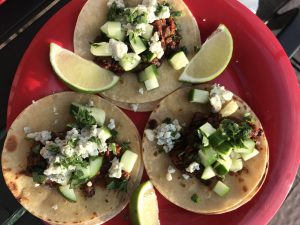 BIG NEWS!!! We welcome Tacos back onto the official Tuesday Menu!! While we're selling some tasty Americano tacos, we're going to still run the live show! You can see how to spice this tasty taco up! Tune in this Tuesday at 7pm on Facebook!!
Welcome special guest, the Headway Art Collective's Mandy Greenfield for live side by side (covid-19 6 feet apart) art on the split screen!
Join us Tuesday in person or online -> homemade chips and salsa on menu + churros!
Make them at home! Americano Taco Ingredients List for 12-15 servings:
Cooking instructions: Brown meat and drain fat. Cook onions and garlic until translucent. Return the meat to the pan, add all spices, diced tomato, and beer. Cook for 15 to 20 minutes.
Ingredients Below:
2 lbs of Ground Beef
1/2 onion diced
3 Garlic Cloves minced
1 tbsp Chili Powder
2 tbsp Cumin
2 tbsp Paprika
1 tbsp Salt
1 tsp black pepper
1 tbs Gran garlic
1 tbsp Onion Powder
1 cup Diced tomato
1 cup Round Guys Brewing Company's Chronmancer
Topping:
Lettuce
Tomato
Shredded cheddar