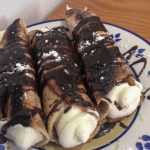 What a show this will be! You gotta join us live this Tuesday on the patio or on Facebook.com/RoundGuys! Learn how to make Dessert Taquitos that will be sold in RGBC as Phil Deaver guides you along the way! If you're on the patio, join us afterward for some tasty samples! Hey Friends – it's another Taco Night in Lansdale! [Pro Tip: See the following steps on video at Taco Night in Lansdale: Dessert Taquitos]
Make them at home! The Dessert Taquitos Ingredients List for 12-15 servings:
[See ingredients below] Cooking instructions: Use foil to make (1-3) 3/4″ diameter rods. Combine cinnamon and sugar in a bowl. Butter a tortilla and dust with cinnamon and sugar. Flip tortilla and butter, and dust with cinnamon and sugar. Roll buttered tortilla up with foil rold. Place on large skillet and grill all sides. Be sure ot grill the tortilla where it overlaps to create a seal to hold the roll together first. Then grill all additional sides until fully grilled. Pull from heat and chill in refrigerator for 5 minutes:
Ingredients to be grilled:
10-12 six inch flour tortillas
1 stick of butter
1/2 cup of granulated sugar
2 tbsp cinnamon
foil wrap
[See ingredients below] Filling: Combine butter and cream cheese with a mixer. Add vanilla and salt and mix. Slowly add sugar while mixing until all sugar is mixed, and the filling is thoroughly blended.
Filling Ingredients:
4 oz cream cheese
4 oz butter
2 cups powder sugar
1/2 tbsp vanilla
1/4 tsp salt
[See ingredients below] Start a water bath and add sugar and milk. Warm and blend mixture. Add chocolate chips and whisk until blended. Add toffee and salt, and whisk until blended. Pull form heat and let cool.
Ingredient – Constructions:
sleeve or pipe bag (a 1 gallon freezer bag can be substituted)
Add filling to tortilla
lay filled tortillas on a plate
Cover with drizzle
Add powdered sugar for garnish.
Close out. In a large skillet, add just enough oil to submerge a tortilla. Bring oil to medium temp. Add a pinch of salt. Lay tortilla in a pan and fry for 20-30 seconds, then flip. Fry for 10-15 seconds and fold tortilla in half. Fry for 15-30 seconds. Pull tortilla and lay on a plate covered by a paper towel (towel is for soaking up extra oil). Repeat for next hard shell.