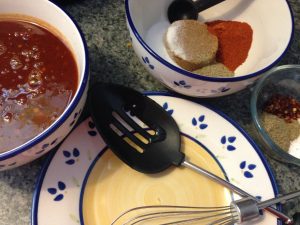 What a show this will be! You gotta join us live this Tuesday on the patio or on Facebook.com/RoundGuys! Learn how to make Corn Tortillas into Hard Shells as Phil Deaver guides you along the way! If you're on the patio, join us afterward for some tasty samples! But WAIT, there's more! Nicole Liebowitz of the Headway Art Collective will be showcasing her sneaker painting talents! Hey Friends – it's another Taco Night in Lansdale!
Make them at home! The Little Piglet Ingredients List for 12-15 servings:
[See ingredients below] Cooking instructions: Cube pork into 1″ cubes. Place in sealed container; cover with marinade, and let sit for 24 or 72 hours. Place pork in roasting pan with marinade and can of Transmission IPA. Place in at 225 degrees for 5-7 hours (or Crockpot on low for 6-8 hours). When meat pulls, take pork out and let cool. Once cool, reheat and shred pork for serving.
Ingredients:
3lbs of Pork loin
1 can Round Guys Brewing Company Transmission IPA
[See ingredients below] Add vinegar to a soup pot and bring to a boil. Add garlic and cook for 7-10 minutes. Add all spices and ketchup, whisk until thoroughly mixed. Let simmer for 1 hour. Pull and let cool before storing.
Vinegar Chili Sauce:
2 cups apple cider vinegar
1/2 cup ketchup
1/4 cup dark brown sugar
2 tbsp salt
1 tbsp minced garlic
1 tbsp cayenne pepper
1 tbsp black pepper
[See ingredients below] In large skillet, melt butter, add garlic and saute for 2-3 minutes. add onion and saute for 5 minutes. Add bell pepper and saute for 10-15 minutes. Pull from heat and serve.
Sauteed Pepper and Onion Topping:
4 tbsp butter
2 bell pepper diced
1/2 medium onion
1/2 tbsp minced garlic
[See ingredients below] Combine all ingredients and whisk.
Whisked Honey Mustard Creama:
1 cup sour cream
1/2 cup mayo
1/2 cup spicy mustard
1 tbsp honey
Close out. In a large skillet, add just enough oil to submerge a tortilla. Bring oil to medium temp. Add a pinch of salt. Lay tortilla in a pan and fry for 20-30 seconds, then flip. Fry for 10-15 seconds and fold tortilla in half. Fry for 15-30 seconds. Pull tortilla and lay on a plate covered by a paper towel (towel is for soaking up extra oil). Repeat for next hard shell.