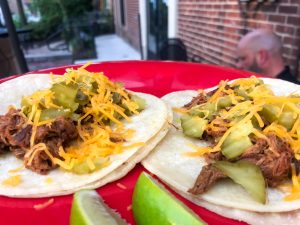 This week at 7pm on Facebook, you'll learn how to make The Mustang 68!!
Welcome special guest, the Headway Art Collective's Erik Sacony for live side by side (covid-19 6 feet apart) art on the split screen!
ALSO! For the first time, we will be selling a limited supply of 15 orders (2 tacos per order) following the show to anyone who either already placed a food order or is picking up a 4 pack to go for just $1 – be sure to join us at a 7:30 while maintaining social distance and proper mask protocol!  Orders will take place on patio after completion of live show ONLY.
Make them at home! Taco Ingredients List for 12-15 servings:
Cooking instructions: Saute garlic in butter in soup pan, add diced tomatoes, black beans, and spices and mix. Add tomato paste and beer, bring to a boil; then simmer for 1 hour.
Ingredients Below:
2 cans of black beans
16 oz diced tomato
8 oz Round Guys Brewing Company Desert Cruiser
6 oz tomato paste
4 oz salted butter
1 tbsp minced garlic
1 tbsp chili powder
2 tsp red crushed pepper
2 tsp salt
1 tsp pepper
1 tsp cinnamon
Topping:
Diced cucumber and blue cheese
8oz blue cheese crumble
1-2 cucumbers diced