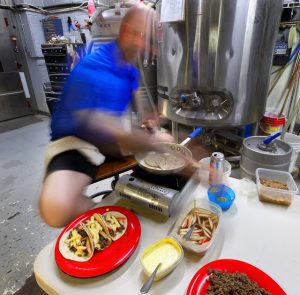 This week at 7pm on Facebook, you'll learn how to make Tacos del Calle!!
Make them at home! Taco Ingredients List for 12-15 servings:
Oven roast following ingredients at 225 degrees. All ingredients below should be added and roasted for 4-5 hours until meat pulls apart. Once ready, let cool then reheat and pull the pork prior to serving.
3 lbs Pork Loin (cubed into 1″ pieces). Oven Roast Pork Loin at 225 degrees.
2 cans of Kiss Off IPA (Mango version)
1 tbsp onion powder
1 tbsp garlic powder
1 tbsp chili powder
2 tsp salt
1 tsp red crushed pepper
1/2 tsp cinnamon
1 lime for zest and juice
How to make Salsa Verde:
1.5 tomatillos (husked and halved)
1-2 jalapenos (destemmed and halved)
1 white onion (rough chop)
At this point in making the salsa, fill a soup pot with vegetables, and cover with water. Bring to boil and allow to stew for 1-1.5 hours (until all vegetables are fully cooked). Once there, remove pot and half of water. Add zest, salt, and lime juice. Emulsify the mix and put back on the stove. Bring to boil and let simmer for 1 hour.
Pull and let cool.
Topping: Onion and fresh cilantro
1 spring cilantro diced
1 medium onion diced