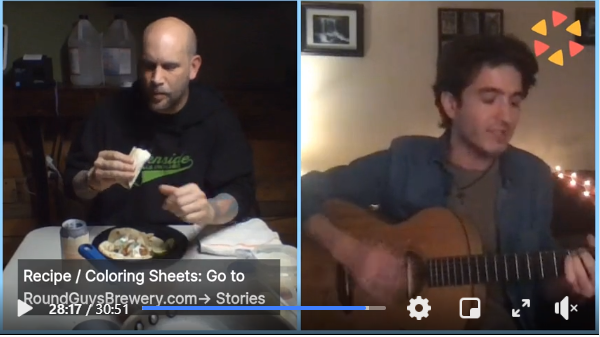 What a blast we had last week! You learned how to make our best tacos yet! Plus you colored along with guitarist, Mike LaBella, to local tattoo artist, Erik Sacony's art.
We're one upping it this week. Taco Tsar, Phil Deaver looks to dice up some tasty tacos while Shannon Murphy of Lansdale favorite, Pulling Daisies, looks to color up a storm, followed by a special tune! Art this week was drawn by Kynn Peterkin, find out more of his great art at kynn-peterkin.pixels.com!
Join us at 7pm on Tuesday, May 26 for another great Make-a-Taco and Coloring night! And who knows, maybe, just maybe, we'll hang your piece of our in our pub!!
This week, you'll learn how to make Truckload of Bacon!!
Make them at home! Taco Ingredients List for 12-15 servings:
32 oz Chicken breast or loin
8 oz bacon (or 4 oz bacon bits)
4 tbsp butter
2 tsp salt
2 tsp pepper
1 tsp cumin
1/2 tsp garlic powder
1/4 tsp red crushed pepper
Cream Sauce Topping – whisked/emulsified:
1.5 cup mayo
1/2 cup sour cream
1 tsp chili powder
1/2 tsp salt
1/2 tsp pepper
Toppings:
shredded lettuce
shredded american cheese
Coloring Image Files, custom designed by Lansdale Artist, Kynn Peterkin!!:
TacoYoda!: Pdf for Download
OctoTaco!: Pdf for Download