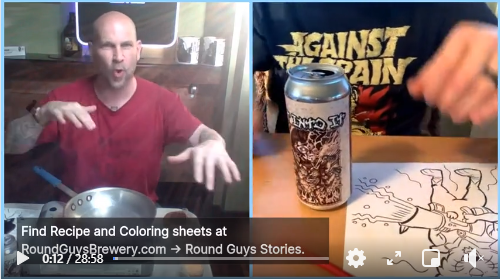 Thank you to those of you who joined us last week! Our host, Be Live, unfortunately had a major flop that we had no way of knowing about until after we ended the show. We apologize for lacking any audio. This week we hope to set things right and will be honored if you join us, once more!! At 7pm on Tuesday, May 19th on our Facebook page, chef Phil Deaver takes you on a live streaming taco making lesson! This week, you'll learn how to make The Captain!!
But wait!!! There's more!
Color with us and have a chance to have YOUR ART selected by a panel of judges (Andrew) may even post it on our wall for all 1 staff member to see during the lockdown! And special guest colorer – Mike LaBella of Underground favorite LaBella & Poole!
Make them at home! Taco Ingredients List for 12-15 servings:
32 oz Chicken breast or loin
4 tbsp butter
2 tsp chili powder
2 tsp garlic powder
1/2 tsp cumin
1/8 tsp salt
1/8 tsp pepper
1 lime for zest
Cream Sauce Topping:
2 cup sour cream
1 tsp garlic powder
1 tsp dill
1/2 tsp cumin
1/2 tsp salt
1/2 tsp pepper
Toppings: Apple Slaw
1-2 honey crisp apple (or other apple of your choosing) sliced into thin julienned pieces
1/2 cup water
1/2 apple cider vinegar
1/2 tsp salt
1/2 tsp pepper
Coloring Image Files, custom designed by Lansdale Artist, Erik Sacony!!:
Eagle: Pdf for Download
Bored Cupid: Pdf for Download